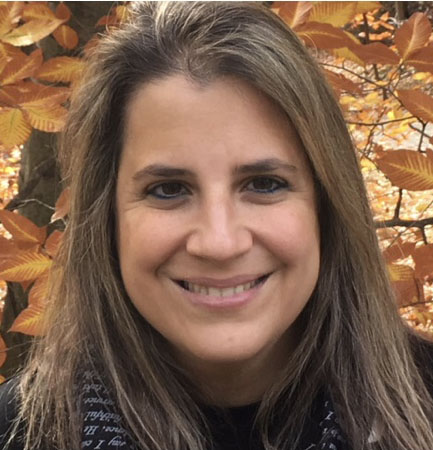 Jamie Herzlich
Journalist
Jamie Herzlich is a well-recognized and highly regarded journalist found on Newsday's business pages. Her name is synonymous with excellence in reporting and uncompromising integrity.  The small business columnist recently celebrated 25 years in her profession. Over the course of her career, Herzlich has been a front line, essential voice who has reported on four of the hardest hitting events ever to affect the lives and livelihoods of Long Islanders.
Herzlich has covered the aftermath of the terrorist attacks of September 11, 2001, the recession of 2008, Superstorm Sandy, and the current coronavirus pandemic.  Through it all, Herzlich has held to a single focus:  To do her best to help Long Island business owners navigate the challenges of a devastated economy.
"While each situation was novel, all require the same skills of adaptation and survival," says Herzlich.  "Long Island businesses are for the most part good at adapting to market changes. I try through my column to do my part to help them get through it.  There's not always a simple answer but if I can give my readers some advice to help then navigate and survive their challenges, I feel like I've done my job.
"The small businesses that are so plentiful on Long Island are particularly nimble when they need to adapt.  They don't have to wade through a huge infrastructure and are particularly attuned to their customers. Small businesses can test new ideas quickly and pivot more readily than a larger corporation might, as long as manufacturing isn't required."
Herzlich has observed how businesses shifted to an entirely new category to meet a changed market demand.  "The difference with COVID is that we don't know when this is going to have an endpoint.  Sandy ripped through the region, was gone and Long Island rebuilt. This time, however, the pandemic is ongoing, and the changes more profound. But we've always come back from various catastrophes changed, with lessons learned."
During more normal times, Herzlich has interviewed such national luminaries as Bill and Hillary Clinton, George H. Bush and George W. Bush, Colin Powell and Tommy Franks.  She particularly enjoyed interviewing Academy Award nominated actor Cathy Moriarty ("Raging Bull") and covering the Hamptons Classic Horse Show.
As fearlessly as she's approached interviewing these larger than life personalities, Herzlich first turned to journalism as a way to overcome her shyness.  She credits her mentor, the two time Pulitzer Prize-winning journalist and Stony Brook professor Robert W. Greene with changing her life in terms of opportunities, including Newsday.  "He helped me break out of my shyness by putting challenges in front of me, often.  That's why I try to give back because he always did."
Herzlich has volunteered at the Robert W. Greene Summer Institute for High School Journalists at Stony Brook University and currently sits on Stony Brook's Buskin Committee that honors outstanding campus journalism.
Over the years, Herzlich has gotten to know business people from boardrooms to bake shops.  She says that cultivating her sources takes time and trust is critical on both ends. Herzlich always abides by any confidential or off the record conversations. And if it's a hard hitting piece, she strives for fairness and balance.
"I don't write for the accolades but to help business in some way through helpful tips and advice.  Small businesses are defined by their leaders and entrepreneurs and are the backbone of the Long Island economy.  If I've helped even one business with my writing, I feel good about what I do. And I hope I've helped more than just one."
In her spare time, Herzlich keeps in fighting form practicing Krav Maga, a self-defense martial art developed in Israel.  During the warmer months, she cruises the local waters on a stand up paddle board.