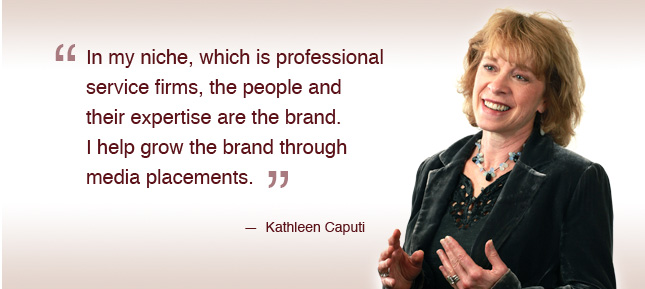 Kathleen Caputi
Vice President
Kathleen has written and managed projects for a wide variety of clients in professional services including law, accounting and architecture, and such industries as real estate, telecommunications, entertainment, cosmetics and fitness. Her knowledge of the business and trade media allows her to place clients in directly targeted media as well as collateral publications, both online and in print.
For Daniel Gale Sotheby's International Realty, Kathleen recently completed a commemorative coffee table book "Welcome Aboard, A History of Daniel Gale Sotheby's International Realty." She researched and wrote the text and acted as the overall project manager for the 180-page book. "Welcome Aboard" has won three industry awards, including a MarCom Gold, Summit International and APEX Writing Award.
Prior to joining Epoch 5, Kathleen managed Cablevision System Corporation's employee communications effort throughout a period of tremendous growth. She has written and consulted for the global human resources group at Avon, edited various academic texts and articles for graduate level education programs and was a regular feature writer for a national trade magazine.
Kathleen is involved in a number of community projects, including the Huntington-based Roberta's Hope Foundation, which provides support for breast cancer patients and their families. She also volunteers her time to the Huntington Interfaith Homeless Initiative. Kathleen lives in Northport, NY.