Kimberly Brown
Account Executive and Digital Media Manager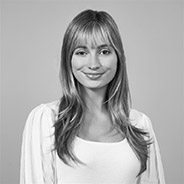 A Stony Brook University graduate with a bachelor's degree in journalism and communications, Kimberly serves as Account Executive and Digital Media Manager at Epoch 5, responsible for account management, media relations, and generating content on the company's social media platforms. She began her career as a reporter for various local newspapers on Long Island.
As a public relations professional, Kimberly has effectively pitched stories to television and print outlets, resulting in features across prestigious media publications such as Forbes, Prevention, Wall Street Journal, Consumer Reports, Well + Good, Sports Illustrated, Best Product, CN2 News, Newsday, News 12, and Good Housekeeping.
Kimberly has planned and executed events with organizations that include the Dallas Mavericks, Charlotte Marathon, and Las Vegas Market. She has also spearheaded philanthropic events in collaboration with the Guide Dog Foundation & America's Vet Dogs, Dallas Fire Station, and Common Ground Montgomery. In each case, she has created PR campaigns for these initiatives that not only had a positive impact but dually brought attention to her clients' philanthropic endeavors.
Additionally, Kimberly has collaborated on influencer and ambassador campaigns with prominent figures such as Orioles baseball player Grayson Rodriguez and Sports Illustrated writer Bri Amaranthus, ensuring her clients achieve greater visibility through impactful social collaborations.
Kimberly's diverse skill set and commitment to our clients makes her a valuable member of the Epoch 5 team.