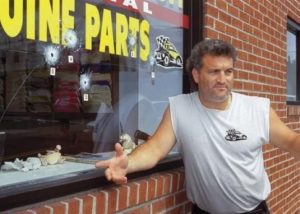 Let me make sure I read the headline correctly.  Abercrombie and Fitch wants to pay someone to not wear its clothing in the interest of preserving its corporate reputation?  And a top reality show celebrity, no less, whose fashion choices catch the eyeballs of millions of youthful consumers on MTV?
While it may seem counter-intuitive for a clothing retailer that puts its name prominently on every article it sells, perhaps it becomes more clear when the "celebrity" in question is Michael "The Situation" Sorrentino of MTV's "Jersey Shore."  While his six-pack abs image may not be my taste, as a practitioner of reputation management on Long Island –  home to Joey Buttafuoco, Lindsay Lohan and a legion of tacky and troubled celebrities – nothing shocks me.
But, did A&F see that its product promotion strategy might actually be best served by telling Mr. Sorrentino that his image didn't cut it for their brand?  MTV certainly thinks this was a publicity stunt by A&F as you can read in the back story from a post in the Wall Street Journal's Speakeasy:
The New Albany, Ohio company (Abercrombie & Fitch) released a statement Tuesday evening titled "A Win-Win Situation," in which it stated a "deep concern" over the association between Mr. Sorrentino and the brand. A&F offered up a "substantial payment" to Mr. Sorrentino "to wear an alternate brand."
"We understand that the show is for entertainment purposes, but believe this association is contrary to the aspirational nature of our brand, and may be distressing to many of our fans," the statement read.  The company also extended the pay-to-not-play offer to the other Jersey Shore reality stars and said it was "urgently waiting a response."
About 45 minutes into the A&F quarterly earnings call Wednesday morning, after Wall Street analysts peppered executives with endless questions about inventory and gross margins, A&F Chief Executive Mike Jeffries chuckled. "Is no one going to ask about the Situation?" he said.
A few minutes later, a questioner acquiesced and asked for the back story on the situation, as it were. Last Friday, an employee approached Mr. Jeffries with what he called "terrible, terrible news" that Mr. Sorrentino had been wearing A&F product on the episode that aired the night before. "We all said, 'Oh, that's terrible'," Mr. Jeffries recalled with a groan. "What are we going to do about it?"
The solution the group came up with was to pay the reality star not to wear the product, Mr. Jeffries said, adding, "We're having a lot of fun with it."  Mr. Sorrentino, one of the most popular characters on the show, is known for lifting up his shirt off to reveal his abdomen muscles, more often flashing the logo on the waistband of his underwear.
"It's a clever PR stunt and we'd love to work with them on other ways they can leverage Jersey Shore to reach the largest youth audience on television," a spokesperson for MTV said.