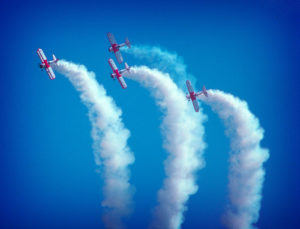 I've worn so many hats in the PR business: from consumer healthcare publicist and fashion PR specialist to non-profit marketer, cause-related strategist and media relations pitchmaster.  But, if you asked what my favorite hat has been (aside from the fabulous blue Eric Javitz hat from Saks my husband made me return!), I'd have to say, my event publicist hat because it demands all the skills, creativity and energy I can muster.
And, each year I'm put to the test promoting Long Island's most attended public event: the annual Bethpage Federal Credit Union Air Show at Jones Beach.  With over 400,000 attendees annually, it ranks as among the biggest events in New York State and offers numerous publicity opportunities to increase Bethpage's brand.
Event PR makes my adrenaline soar and puts me at the top of my game.  Multi-tasking is my thing and I am in my element when simultaneously juggling, strategizing, organizing, planning and pitching.  It's a formula that I arrived at over many years and many events.
Of course, event publicity is about building brand recognition for clients – but in more practical terms, it's about building excitement, and ultimately turnout to make the event as "big" as it can be.
So what are some of my tried and true methods to make an event BIG?  Here's my list:
Get the media hands on:  personal reporting is always best … for example, I get media into the cockpit of a fighter jet that takes them through an amazing sequence of casino pokies online jaw-dropping aerial maneuvers!
Create a countdown:  we try to position the Bethpage Federal Credit Union Air Show as Long Islander's official "kick-off to summer" and we give it momentum by counting down the weeks and days until it arrives
Build excitement with pre-event happenings: give media an opportunity to help promote it with a series of lead-up events … treat event PR like a campaign over the course of weeks
Declare "only, biggest, best" mantle: editors and reporters come and go…declare it an annual "must cover" for media because it's a "leading" event in your market
Dissect every media outlet for multiple angles:  different beats or sections make for multiple stories
Go social: most events are tailor-made for social media … create an online community of supporters and create a dialogue with fans
Below is a video of my recent workshop on the finer points of event PR.