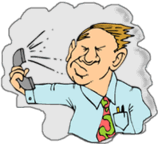 I must have made a thousand media pitches in my 30 years in corporate communications and PR media relations.  There are many keys to successful media pitching, starting with a bona fide story that meets the media's objective of reporting timely, interesting and useful information to readers.
But, if you're a PR professional, you may have found that there are some things you just do not do when contacting the press: hence, the term media relations.  In a recent blog post on Publicity Hound, author Joan Stewart offers 7 Phrases Journalists Hate Hearing:
1.  "Never seen anything like this"
Chances are, they have.
2.  "When can we expect this to go up?"
Journalists get over 100 emails a day for news stories. Thank them for their time and consideration and send a polite follow up email if lots of time has passed.
3.  "I know this isn't your area, but…"
It's best to spend a minute, or two, to find the appropriate contact person to pitch to.
4.  "Can you send me 10 copies of the article as soon as it's printed?"
Every publication has a circulation department. Order as many copies as you need by requesting the issue and story you are looking for.
5.  "Can you let me know as soon as the article is printed?"
Just like a publicist, journalists keep up with hundreds of requests and people – It's difficult to keep up with demands. Keep an eye out for your story by monitoring the paper.
6.  "If I give you a good tip and you write the story, can you promise me you'll give it good play?"
The editor, journalist and publisher work together when creating the news. They can't always promise where the story will end up.
7.  "Can you please not use my name?"
If you or your client prefers to remain anonymous, state that prior to the interview to avoid future inconveniences.